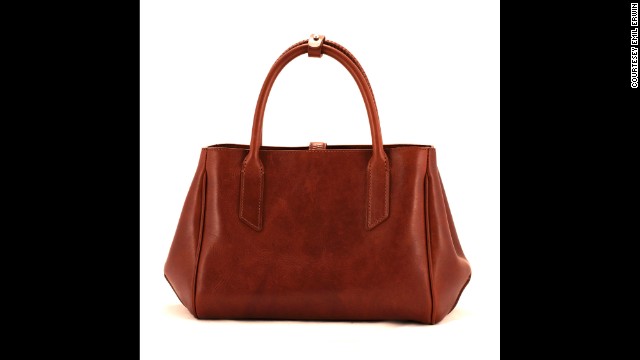 Emil and Leslie Congdon launched bag and accessories company
Emil Erwin
in Nashville, Tennessee in 2009. They recently branched into women's handbags and clutches.
Over the past century, the classic Stormy Kromer trapper hat has established itself not only as a reliable winter hat, but a part of American folklore and pop culture. The fact that all the hats are still made in Ironwood, Michigan -- supporting the local labor force -- contributes to its status as a symbol of the American dream, Stormy Kromer CEO Bob Jacquart said.
Pierrepont Hicks began as a way for Katherine McMillan to bring in extra income when she was pregnant. Now, it's a full-time labor of love backed by a commitment to manufacturing in the U.S. The name is synonymous with simple yet elegant ties and bowties.
All American Clothing makes jeans, shirts and accessories for men and women ranging from $20 to $70. It uses denim from Plains Cotton Cooperative Association, a collective of nearly 10,000 American farmers.
Steven Alan might be best known for his signature reverse seam shirt but his collections also include dresses and skirts made in America. The Steven Alan Showroom represents 20 designers of clothing, handbags and other accessories.
Left Fields' commitment to American manufacturing is etched into each pair of its jeans and chinos, which bear an exterior label that says "Still Made in the USA." Tags inside sweatshirts like this one proudly declare its origin in big letters: NEW YORK CITY.
Hanky Panky has been manufacturing lingerie in the United States since its inception 1977. While many apparel designers source materials abroad, 100% of the fabrics and trims used to make Hanky Panky's Signature Lace thongs and panties are knitted in the United States.
Rancourt & Co. Shoecrafters has been producing shoes in twin cities Lewiston and Auburn in Maine since 1964. Rancourt describes its shoes not only as comfortable, but "uniquely American."
Eunice Lee wants to continue manufacturing UNIS apparel in New York and Los Angeles because that's where her boutiques are. Having a short distance between the supplier and the showroom allows her to respond more quickly to customers' wishes, she said.
Bollman Hat Company started out in 1868 as a manufacturer of black felt hats in Adamstown, Pennsylvania. It continues to make wool felt, fur felt, and straw hats and caps from its employee-owned factory in the same town.
Made in America: Emil Erwin
Stormy Kromer
Pierrepont Hicks
All American Clothing
Steven Alan
Left Field
Hanky Panky
Rancourt & Co.
UNIS
Bollman Hat Company
STORY HIGHLIGHTS
NEW: Happy Independence Day! Buying American-made products is one way to show your stripes
Products manufactured in America may seem hard to find, but it's not impossible
CNN commenters provide picks for brands that manufacture in America
(CNN) -- The slow death of American manufacturing and the trend toward outsourcing overseas has made it hard to find American-made goods, but not impossible. A host of small businesses are still dedicated to manufacturing goods in America, and, thanks to a few diligent bloggers, they're easier than ever to find.
"Buying Made in USA is not just a passing trend. It truly is something we as consumers, business owners and even government can do to support small to mid-size businesses," said Julie Reiser, president and co-founder of Made in USA Certified, which audits supply chains for businesses that want their products to bear their seal.
"Small businesses are responsible for two out of every three new jobs created in the U.S. We need these small to mid-size businesses to flourish and grow as they are our innovators, our makers and job creators. Making it in America, supporting U.S. manufacturing and buying American is one thing we can all do today to help keep the American dream alive and well."
Made in USA pop-ups bring together like-minded consumers
Here's a short list of websites and Facebook groups dedicated to helping consumers find products made in the United States, along with a few brands known to manufacture most or a substantial portion of their goods stateside. Read the list and help us grow it by adding your suggestions in the comments.
Resources:
Don't miss out on the conversation we're having at CNN Living.
Follow us on Twitter
and
Facebook
for the latest stories and tell us what's influencing your life.
A Continuous Lean: The American List
Accessories:
- Archival: Bags, apparel, blankets
- Arne Mason: Leather carrying cases
- Blackbox Case: Wooden laptop cases
- Corter Leather and Cloth: Belts, wallets, key chains
- Fox River Mills: Socks
- Makr Carry Goods: Bags, stools, wallets, belts
- NATIVE(X): Totes, scarves, jewelry, mugs
- Pendleton: Blankets and apparel
- Pierrepont Hicks: Ties, bowties
- Randolph Engineering: Glasses, sunglasses
- Summit Creek Dry Goods: Wallets, key chains, belts
- Estex Mfg. Co.: Tool sheaths, aprons, buckets, holsters
Bags:
- GORUCK
- Maptote
- Tom Bihn
Clothes:
- UNIS
Footwear:
- Alden
- Quoddy
Headwear:
- BUZZLINE
- Stetson
Random:
- Audio Research: Audio products
- Braun Corporation: Manufacturer of wheelchair lifts and ramps, transit vehicles
- Case Knives: Pocket and hunting knives
- Colgate: Crib mattresses and pads
- Council Tool: Hand tools
- Edelbrock: Specialty vehicle parts
- Excel: Hand dryers
- Grado Labs: Headphones and phone cartridges
- Heritage General Store: Bicycles
- Pacific Hospitality Design: Furniture
- K'NEX: Children's toys
- Geneva Manufacturing: Modular garage organizing gear
- Itsy Bitsy Ritzy Shop: Furniture
- Malpaca: Pillows and bedding
- Portland General Store: Grooming products for men
- Purrfectplay: Pet toys
- Sterilite: Plastic Housewares
- Stonebridge Upholstery: Furniture
- Tervis: Tumblers, drink ware
- USA Flag Supply: American, Gadsen, specialty flags
- Vandersteen Audio: Speakers
- Wholesome Hide: Rawhide dog chews
Where do you shop for products made in the United States? Share your resources in the comments!